As a horse breeder, you take pride in the quality of your horses. Does your website showcase your horses the way they deserve? Or could a well-designed website help you achieve more success? Have you tried building your own site but are either unhappy with the results or it's looking a little dated because it was built long ago and updating it is difficult?
In today's digital age, having a website for your horse breeding operation is not just an option, but a necessity for most breeders and trainers. It can help you showcase your horses, services, expertise, and accomplishments to a broader audience, helping you grow your business.
Advantages of websites for horse breeders and trainers
Here are just a few reasons why you should have a website for your horse breeding operation: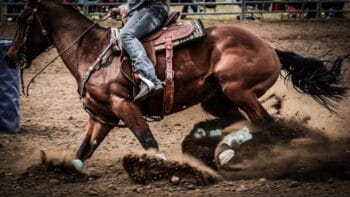 Increased Visibility: By having a website, you can increase your visibility and reach a larger audience. Potential customers can easily find your website through search engines and social media and learn more about your breeding operation when they click through to your site.
Improved Credibility: A well-designed website can help establish your credibility and professionalism. It can highlight your expertise and accomplishments and provide testimonials from satisfied customers. Your website can help establish trust and help a prospective customer decide if your horses are what they are looking for or not.
Content Control: With a website, you have all the room you need to detail your horses for sale and stallions at stud and to do it with the use of a solid, logical site structure. Visitors can find everything they want easily. Additionally, search engines can understand that site structure and those horse details. For example, if people are searching for specific bloodlines and you have carefully formatted pedigree tables rather than photos of registration papers on your site, they might find you.
Customer Engagement: A website can also help you engage with your customers and build relationships with them. You can provide valuable updates about your breeding operation, and news and events. Newsletter signups can be a valuable communication channel. Contact forms protect you from spam and give people an easy way to email you. You can also spell out the best ways to reach your team.
Competitive Advantage: Finally, having a website can give you a competitive advantage in the horse breeding industry. It can help you stand out from other breeders and attract more customers. Since most people research online before making a purchase, you want to make it easy to find out about you and your horses.
Overview of building a website
Now that you understand the benefits of having a website, you might be wondering how to get started. Building a website can be overwhelming, especially for those who lack technical skills. Here is a very bra broad of the steps you'll take to build a website and establish a strong online presence:
Define the Purpose and Goals of the Website: Before starting, it is essential to define the purpose and goals of the website. Horse business owners need to consider what they want their website to achieve, whether it is to increase sales, attract new customers, or provide information about their horses or services. Once you have decided your purpose and goals, you determine the website's structure, design, layout, and features that align with your goals.
Choose a Website Software Platform and a Hosting Provider: After defining the website's purpose and goals, you need to decide how and where you will build your site. The software you use to build your site is particularly important. (We should write an entire article on that.) There are several options, each has advantages and limitations. Some can produce professional looking websites, and all can be used to make amateur looking sites. Hosting providers are companies that provide the technology and services needed to make the website available on the internet. Some hosts specialize or provide website building software, so you need to choose that first. You should choose a quality hosting provider that offers reliable services, fast loading times, and excellent customer support. Hosting is truly a "get what you pay for" service.
Collect Your Materials: You will need photos, pedigrees, and a lot of text about your horses and your operation. Be sure to optimize your photos so they load fast on websites. Decide what will be the easiest way for you to write – that might be inside your website, typing in Word or Google Docs, with a pencil and paper, or even by talking to your phone or your computer and having it take notes. Use what you are comfortable with and what is most efficient.
Use Attractive Design Elements: When designing your website, focus on attractive design elements that support your brand. Use high-quality, but optimized images and videos, and choose a color scheme that reflects your branding.
Plan for User-Friendly Navigation: Design the navigation for your website in advance to make sure it is easy to navigate and user-friendly. Visitors should be able to find the information they need quickly and easily. For example, your About Us page should be prominently in your header navigation.
Design and Develop the Website: Once you have your software platform and host, you can start designing and developing the website. Be sure that the website is visually appealing, easy to navigate, and optimized for search engines. In addition, your website should be responsive, meaning it looks good on all devices, including computers, tablets, and smartphones.
Optimize for SEO: Finally, optimize your website for search engines to increase your visibility and attract more customers. Use relevant keywords, meta descriptions, and alt tags, and double check that your website is mobile-responsive.
In conclusion, having a website for your horse breeding operation is essential in today's digital world. Can you afford not to have a professional website for your horse business? A site can help you increase your visibility, establish your credibility, engage with customers, and gain a competitive advantage.
Yes, building or rebuilding your website can be a daunting task but it is worth it. If you would prefer to focus on the content on your site rather than the technical details, have a look at what we can do for you. Or, if you are ready to get started, choose the plan that is right for you. If you don't see the perfect service package for you there or need a custom site, drop us an email.