Creating an About Us page for your horse industry website is an important step in establishing a connection with your target audience. It is a great way to introduce yourself and your business, and to explain why you are the right choice for those looking for the horse and services you provide. In this article, we will look at why an About Us page is important, what to include in it, how to build it to suit horse industry readers, tips for writing an engaging page, and that final review before you publish.
Why an About Us Page is Important
An About Us page is essential because it provides potential customers with a better understanding of who you are and why you are the right choice for them. It is also an excellent chance to build trust and credibility while showcasing your expertise in the horse industry. Furthermore, it is an excellent opportunity to strengthen your brand identity and offer a more personalized experience to your customers.
We often find that customers would prefer to skip or minimize the importance of this page. Absolutely understandable! Who wants to write about yourself? And honestly, it is never the highest traffic page on a website. However, there are good potential customers out there who will not complete a big transaction with someone they can't research a little. Those people will scour your About Us page before they write you a check. Don't eliminate them before you get a chance to talk to them.
What to Gather Before You Start
Building a compelling About Us page is easier if you collect some information in advance. This should include a brief overview of the horses or services you offer, your operation's mission and values, information about the team behind the business, and customer testimonials.
That gives you a good start at writing your page's text. But appealing pages, as you know, include photos and videos because they are a powerful tool to make your page more engaging. Including images and videos can help to break up the text and make your page more attractive. We all like to see pictures of horses, don't we?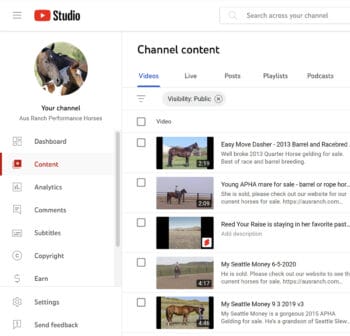 We recommend using YouTube to upload your videos and then embedding them in your website. That approach takes a lot of load off your website server and gives you the advantage of your video being searchable on YouTube as well. Plus, it's free!
Now you have a good list of the items to collect before you sit down to build your About Us page.  Like so many things, building this page will be easier if you do a little preparation first. DHM customers get lots of help collecting this information and putting it all together.
Tailoring Your About Us Page to the Horse Industry
When developing an About Us page for the horse industry, of course it is crucial to include information specific to our industry and your niche in it. Include your experience and qualifications, any awards or recognitions you have received, and any affiliations you may have with industry associations. You could also highlight anything unique about the horses, services or whatever else you sell. Are your horses handled daily but unaccustomed to herd life? Or have they grown up with plenty of room to be a horse but less human interaction? If you stand stallions, do you offer exceptional facilities? Or do outside mares enjoy your lush pastures? This is a great place to set your potential customers' general expectations.
Writing Your Engaging About Us Page
When you sit down to write your page, you are aiming for an informative and easy to read page. To achieve this, use a conversational tone, and make sure to include stories, anecdotes and other interesting facts. Additionally, focus on the customer, and make it easy for them to contact you. Think of some of your favorite customers and write like you are talking to them.
Start with a compelling introduction. The first few sentences of your About Us page should grab your reader's attention and make them want to learn more. Starting with a story about your horse operation is a good way to start.
Every horse breeder has their own unique approach to selecting mares and stallions. Use your About Us page to share your goals and explain how it sets you apart from other breeders in the industry and your niche. If you are a trainer, explain why your training makes you different.
Reviewing Your About Us Page and Hitting Publish
After writing your About Us page, you should analyze it to ensure it is effective. Read through it carefully, verifying that all information is accurate and up-to-date. Additionally, check for any spelling and grammar mistakes and ensure that the tone remains consistent throughout.
Now is a good time to review the SEO for your page. Have you used your keywords appropriately or should you add a few for more clarity? Write your SEO Title and Meta Description. If you are a DHM customer, we provide a great tool to help with SEO items, social media previews, and general writing metrics.
Before publishing your page, review it one last time to ensure that it meets all of your requirements. Lastly, update your page regularly to ensure that it remains relevant.
In conclusion, creating an effective About Us page is a great way to connect with your audience and build their trust in you. Your page should include a brief description of your horses and services, information about the team behind the business, customer testimonials, and any awards or recognitions you have received. Be sure to use some great photos and videos. Don't forget to review it one last time before you hit publish.